CUISINE RAFFINÉE À "BUCA BEACH RESORT"

Dans une ambiance simple et modeste, le complexe hôtelier "Buca Beach Resort", offre seulement le meilleur, lorsqu'il s'agit de la cuisine et de la relaxation. L'hôtel a un restaurant et deux bars, où on peut dîner ou déguster une boisson rafraîchissante pendant toute la journée.
Les choix particuliers, des plats délicieux et des boissons rafraîchissantes, combinées aux espaces intérieurs et extérieurs uniques de l'hôtel de luxe transformeront votre dîner ou la dégustation de votre cocktail en une expérience fabuleuse.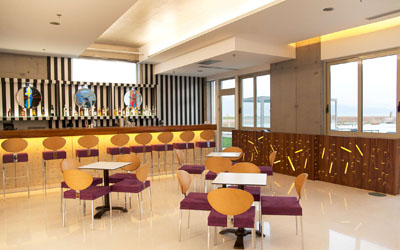 The Bar delights with classic cocktails and signature creations, along with a selection of wines by the glass. Let us introduce you to some of the world famous wines, produced in the wider area of Peloponnese.
At "Buca Café" people gather to have a snack, enjoy a drink or entertain themselves with several board games, table tennis, pool table and a lot more activities that are available.
"Olive" restaurant extends on the 1st floor of a separate building, ideally located centrally at the complex thus offering an unspoiled view to the Messinian Gulf. It occupies a surface of 500m2 and can welcome up to 150 guests in its spacious indoors surfaces, while more than 450 guests can be seated outdoors.