WORLD CLASS RESORT FACILITIES

The abundant luxuries, elevated services and facilities at Buka Beach Resort will assist you on making the most of every moment spend at our establishment. We are always there to fulfill our guests every desire and request.
A unique collection of extraordinary services and facilities, inspired by the lifestyle of the modern luxury traveler.
The Pool
Swim and sunbathe at our Olympic size Pool and unwind your senses under the beaming Greek sun. It can be used by all of our guests, since it has successive depths (0,40m-0,90m-1,5m).
It is located next to the main building, complete with everything you might need, including showers, sun beds and towels. Buy yourself a cocktail at the lobby bar, right next to the pool, and enjoy the incomparable views across Mt. Taygetos and the Messinian Gulf.
Isn't that holidays is all about?
Tennis Court
An Astroturf tennis court is available for you any time. Make your reservation timely, there is a high demand!
Kids Zone
We are pleased to offer our young guests and their parents a place of 40m2 to be creative and active without disturbing anyone and being disturbed!
There is plenty of room to play with several toys and plays, read a book, draw the Buca-sunset, watch a kid's movie or maybe just hang out and make some new friends at the playground!
Conference
Our fully equipped and air-conditioned conference rooms, including business lounge, work places and a coffee area, are ideal for business meetings as well as for private receptions. We offer you a variety of capacity to choose the most suitable area for your event.
Pylos Room: 20㎡ Room/Max 120 Persons
Methoni & Koroni Rooms: 41㎡ Room/Max 35 Persons
Football Court
Are you in a mood for football?
A 5×5 court is waiting for you and your friends. Organized tournaments take place frequently.
Beach
The crystal blue waters of the Messinian Gulf can easily amaze you! The wide and endless sandy beach in front of Buca Beach Resort has become a great attraction for our guests. Our little guests do also show a particular preference in this place, because swimming and playing in the shallow waters with the sandy seabed leads the amusement to a different level! We complete the ultimate holiday feeling by providing you sunbeds, umbrellas and beach towels for free. All you have to do is to order your cocktail or your snack and relax. We will care about the rest!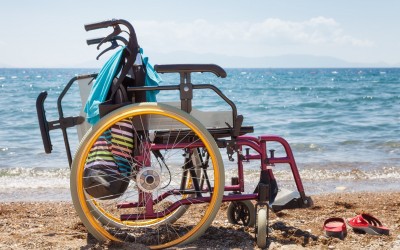 Accessible
Our hotel is fully wheelchair accessible (ramps, lifts, pool hoist), with 6 rooms specially adapted and equipped for guests with mobility limitations (electric beds, monkey pole, wheel-in shower, static shower chair, WC grab rails, adjustable raised toilet seat etc). Most of our staff is certified to assist our disabled guests.
Specialty equipment (mobility scooters, wheelchairs, hoists etc) are available for hire.
A van with tail lift can arrange the transfer for our guests with mobility limitations, while a range of trips to local sites of interest are offered as well.