FINE DINING AT BUCA BEACH RESORT

In a simple and unpretentious atmosphere, Buca Beach Resort offers you only the finest when it comes to dining and lounging with a restaurant and two bars, at which our guests can dine or enjoy a refreshing drink during the entire day.
Distinct options, delectable dishes and mouthwatering drinks, combined with unique indoor and outdoor spaces of our luxury hotel, transform your dinner or cocktail into a legendary experience.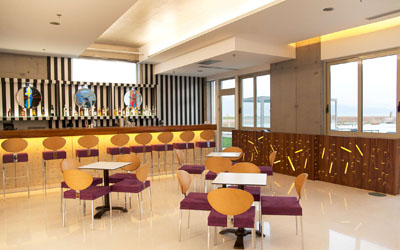 The Bar delights with classic cocktails and signature creations, along with a selection of wines by the glass. Let us introduce you to some of the world famous wines, produced in the wider area of Peloponnese.
At "Buca Café" people gather to have a snack, enjoy a drink or entertain themselves with several board games, table tennis, pool table and a lot more activities that are available.
"Olive" restaurant extends on the 1st floor of a separate building, ideally located centrally at the complex thus offering an unspoiled view to the Messinian Gulf. It occupies a surface of 500m2 and can welcome up to 150 guests in its spacious indoors surfaces, while more than 450 guests can be seated outdoors.